Wow, what a night!  It is all clear now, thank goodness, but it was pretty scary there for a minute.  Our side of town is still without power but luckily I used to work in the hotel biz and I still have a few connections so I was able to check into a 4 star hotel for the evening.  Yes, Hello, Room Service?
I started watching the radar on my computer at 3:00 (the time Gary England said storms would start brewing).  I saw tornado warnings going up all over the map, including one that was a little too close to our place at Fay for comfort.  When I turned on the TV they were already following the storm moving towards Fay.  The weather service even had a crawl at the bottom of the screen that mentioned FAY as being in the path!  Now, that may not sound like anything special but when you consider that Fay has about 45 people living in "city limits", it was pretty surprising that it was specifically mentioned.  I watched in horror as a funnel started forming on the screen…and I could actually see the Fay house in the same shot.  The funnel was so close I could make out the roof, the greenhouse and the grain elevator next to the house.  Can you say panic?  All I could think of is all those apricots and peaches from the orchard being very sweet projectiles.  Lucky for me, but not for some others, it dropped down North of town and spared Fay.  Thank You Baby Jesus!  (Picture above is the tornado the passed by Fay)
After I was able to take a few breaths and calm down Gary came back on the TV with a new tornado West of OKC and moving towards a little town called Calumet.  At that exact instant my dad (who works in the oilfield and is outside all the time) text me and said the TV they had on location had cut out and they weren't sure where the storm was turning.  I asked where they were located and after a very long pause, I got the worst text ever: "North of Calumet".  CRAP!!! 
(This picture is of the F5 tornado outside Calumet that my dad barely missed.) 
I started texting like a maniac telling him and his crew where to start driving (trying to outrun a tornado is something you shouldn't usually do but they had no choice).  They were able to miss the tornado by only a few minutes.  At one point they were less than 2 miles away.  They got home safe, althouth the location probably recieved a lot of damage.
OK, MY TURN!!  During the chaos of trying to get my dad away from the storm, I started noticing a new cell brewing SW of my home in OKC.  All the tracking models put the storm moving right over my neighborhood.  Then, 40 miles SW of OKC, still barreling towards me, it dropped a tornado.  Now I have a tornado that will be moving over my home within the hour.  My phone lights up with family calling trying to warn me but I don't take weather forgranted.  I always watch the weather, no matter what is going on.  Most people in Western OK go out on the front porch to video tape storms but not me.  Reason?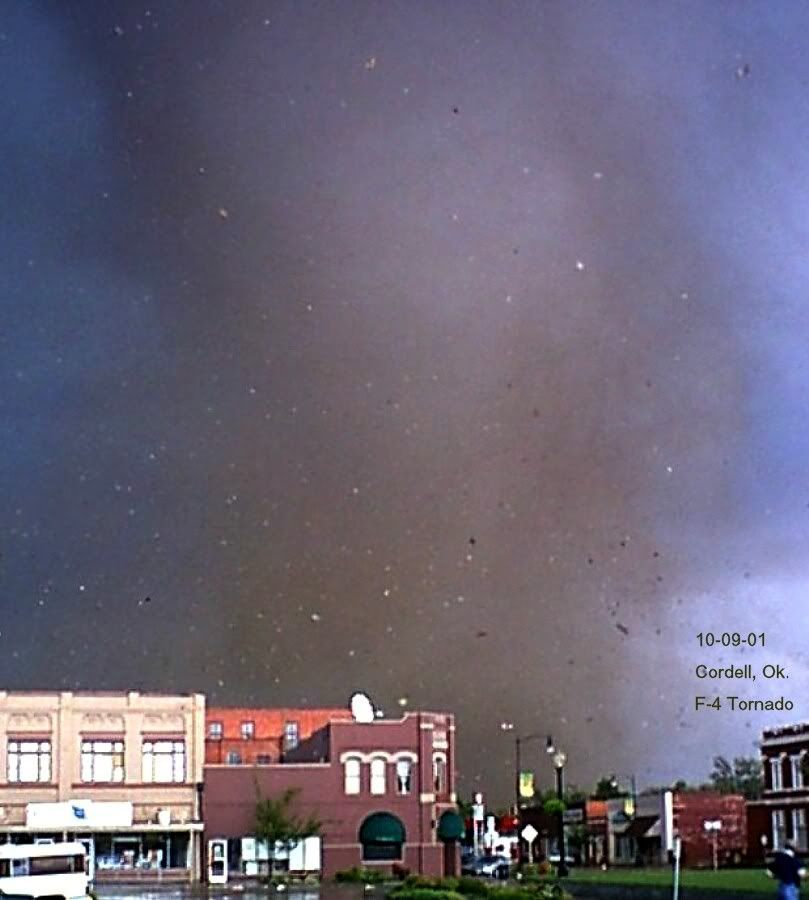 When I was 16 years old I was driving back from a band competition on a back country road.  The weather service came over the radio and said a tornado warning was issued for the same area I was driving in.  I got to the intersection on the top of a hill where I would need to turn to pass through a town called Cordell.  I stopped on top of the hill 2 miles North because it overlooks Cordell and it's a nice view.  Unfortunately, I could also see a huge tornado approaching Cordell from the West.  I couldn't do anything but sit there as I watched the tornado wipe the town off the map.   It didn't go around the town at all.  It went right down the main road.  Talk about feeling helpless.  After it passed by, I had to actually drive through Cordell because it was the only way home.  It was heart-wrenching to see families coming out of cellars and shelters to open slabs where their houses once stood.  That was a horrible day.  So needless to say, I take this stuff seriously.
(This picture is of the F4 tornado that I was watching from a hilltop North of town)
(Tornado that was heading towards me) But back to the saga at hand.   The storm was getting very close to OKC and I was beginning to panic.  The wind began to pick up and the sky got very dark.  The lightening and thunder was almost constant.  Almost to the point where you couldn't hear yourself think.  I started putting my computer and pillows under the stairs and went back up for the cat.  Just then the power goes out.  OK, when the power goes out, it's really really close.  That's when you REALLY start to panic because now you can no longer watch it on tv to know the exact location.  I turned on my radio and hunkered down preparing for the worst.  Then some good news, it began to turn East and missed me by a few miles.  Relief doesn't begin to describe how you feel when something that dangerous comes that close and turns. 
So, thankfully, I'm typing this now from my comfy hotel room having just gotten out of the hot tub to relieve some stress.  We all made it, family is safe, Fay is intact, and my cat finally came out from under the couch.